Publications in refereed journals
H. Bin, T. P. A. van der Pol, J. Li, B. T. van Gorkom, M. M. Wienk, and R. A. J. Janssen
A novel wide-bandgap polymer donor for efficient polymer solar cells with small energy losses
Chem. Eng. J. 2022, 435, 134878
---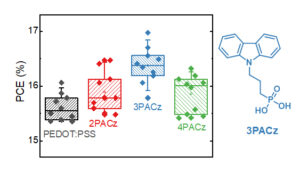 H. Bin, K. Datta, J. Wang, T. P. A. van der Pol, J. Li, M. M. Wienk, and R. A. J. Janssen
Finetuning hole-extracting monolayers for efficient organic solar cells
ACS Appl. Mater. Interfaces 2022, 14, 16497−16504
---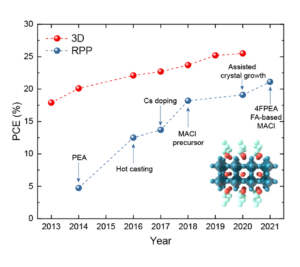 A. Caiazzo and R. A. J. Janssen
High efficiency quasi-2D Ruddlesden-Popper perovskite solar cells
Adv. Energy Mater. 2022, 12, 2202830
---
Z. Chen, G. Brocks, S. Tao, and P. A. Bobbert
Light-tunable three-phase coexistence in mixed halide perovskites
Phys. Rev. B 2022, 106, 134110
---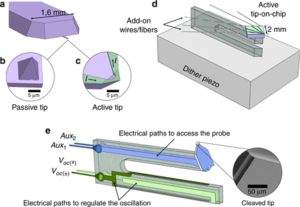 T. Çiftçi, M. Verhage, T. Cromwijk, L. Pham Van, B. Koopmans, K. Flipse, and O. Kurnosikov
Enhancing sensitivity in atomic force microscopy for planar tip-on-chip probes
Microsyst. Nanoeng. 2022, 8, 51
---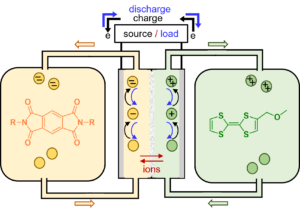 N. Daub, K. H. Hendriks, and R. A. J. Janssen
Two-electron tetrathiafulvalene catholytes for nonaqueous redox flow batteries
Batteries & Supercaps 2022, 5, e202200386
---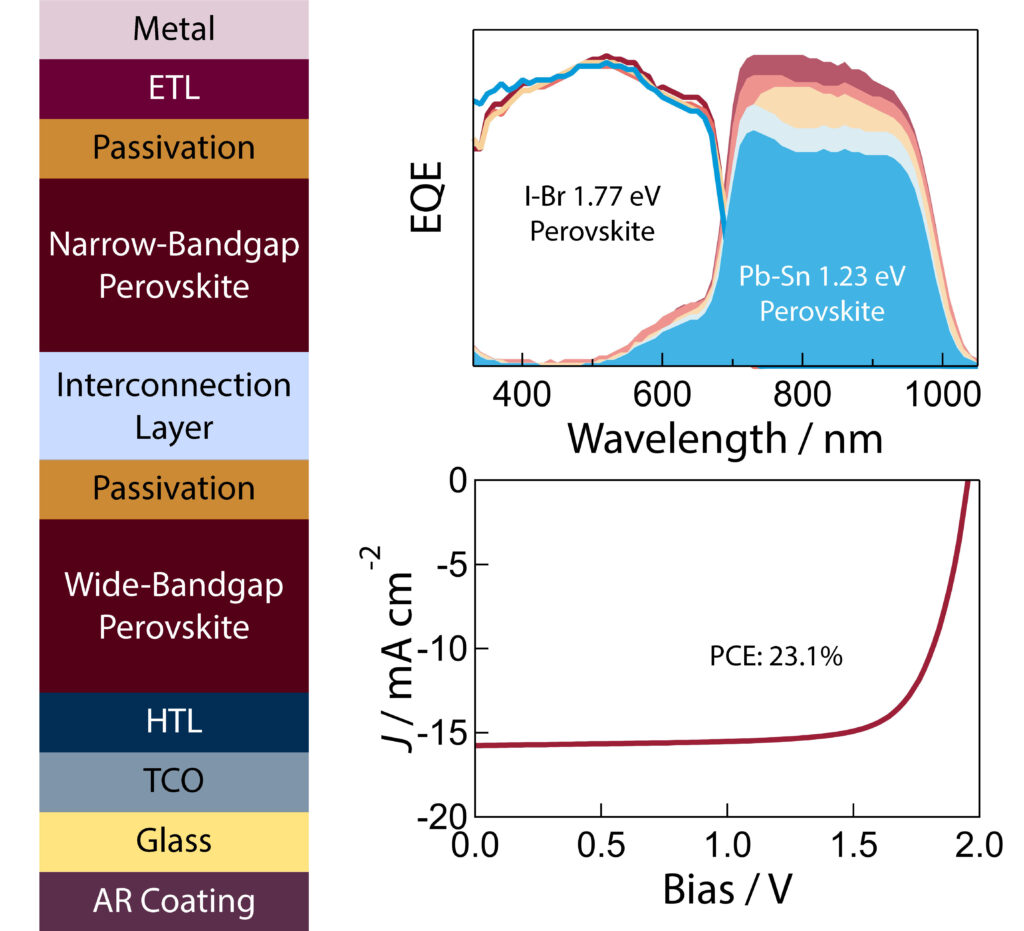 K. Datta, J. Wang, D. Zhang, V. Zardetto, W. H. M. Remmerswaal, C. H. L. Weijtens, M. M. Wienk, and R. A. J. Janssen
Monolithic all-perovskite tandem solar cells with minimized optical and energetic losses
Adv. Mater. 2022, 34, 2110053.
---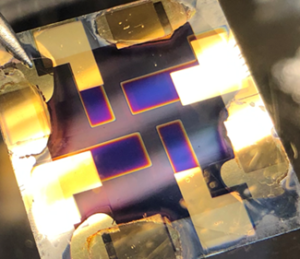 B. T. Feleki, R. K. M. Bouwer, M. M. Wienk, and R. A. J. Janssen
Perovskite solar cells on polymer-coated smooth and rough steel substrates
Sol. RRL 2022, 6, 2100898.
---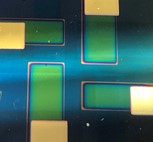 B. T. Feleki, R. K. M. Bouwer, V. Zardetto, M. M. Wienk, R. A. J. Janssen
p−i−n Perovskite solar cells on steel substrates
ACS Appl. Energy Mater. 2022, 5, 6709−6715
---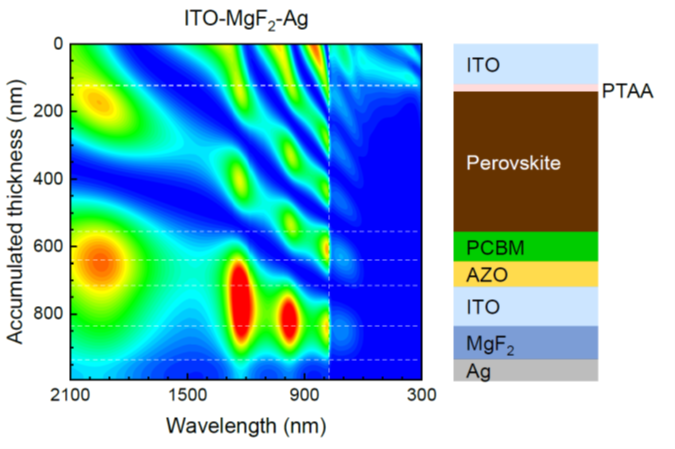 B. T. van Gorkom, T. P. A. van der Pol, K. Datta, M. M. Wienk, and R. A. J. Janssen
Revealing defective interfaces in perovskite solar cells from highly sensitive sub-bandgap photocurrent spectroscopy using optical cavities
Nat. Commun. 2022, 13, 349
---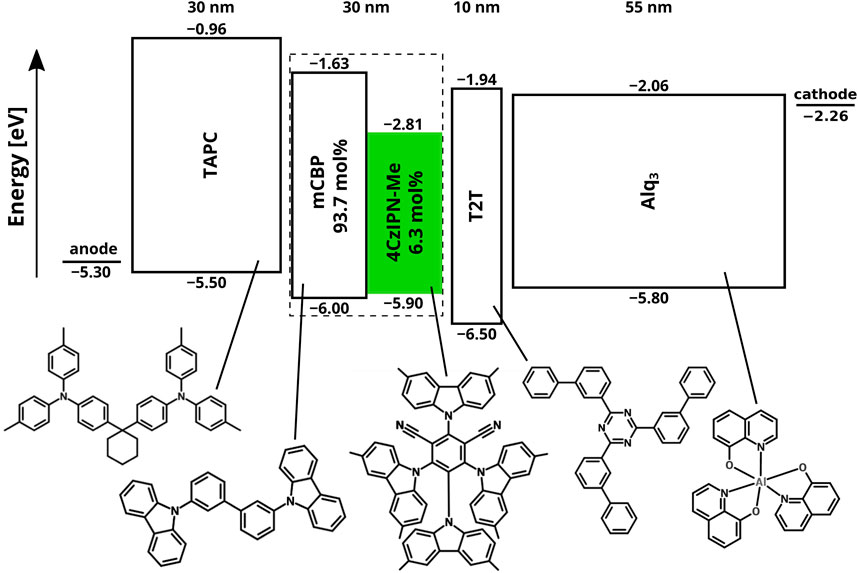 C. Hauenstein, S. Gottardi, E. Torun, R. Coehoorn, and H. van Eersel
Identification of OLED degradation scenarios by kinetic Monte Carlo simulations of lifetime experiments
Front. Chem. 2022, 9, 823210
---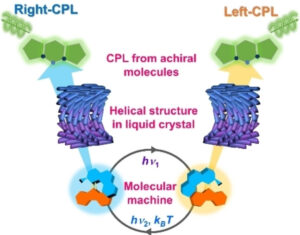 J. Hou, R. Toyoda, S. C. J. Meskers, and B. L. Feringa
Programming and dynamic control of the circular polarization of luminescence from an achiral fluorescent dye in a liquid crystal host by molecular motors
Angew. Chem., Int. Ed. 2022, 61, e202206310.
---
D. Katerinopoulou, E. M. Pervolarakis, C. Papakonstantinopoulos, B. Malic, G. H. Gelinck, G. Kiriakidis, Z. Lodziana, I. N. Remediakis, and E. Iliopoulos
Transport in Mn spinel oxides alloyed with Zn-Ni: Polaron hopping in an inhomogeneous energy landscape
Appl. Phys. 2022, 132, 115101.
---
B. A. G. Lamers, M. H. C.; van Son, F. V. de Graaf, B. W. L. van den Bersselaar, B. F. M. de Waal, K. Komatsu, H. Sato, T. Aida, J. A. Berrocal, A. R. A. Palmans, G. Vantomme, S. C. J. Meskers, and E. W. Meijer
Tuning the donor-acceptor interactions in phase-segregated block molecules
Mater. Horiz. 2022, 9, 294−302
---
F. Liu, Y. Su, X. Lin, L. Nian, B. Wu, Q. Niu, H. van Eersel, P. A. Bobbert, R. Coehoorn, and G. Zhou
Image-force-stabilized interfacial dipole layer impedes charge injection into disordered organic semiconductors
Phys. Rev. Appl. 2022, 17, 024003
---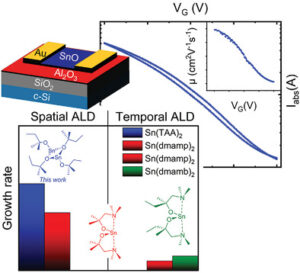 A. Mameli, J. D. Parish, T. Dogan, G. Gelinck, M. W. Snook, A. J. Straiton, A. L. Johnson, and A. J. Kronemeijer
High-throughput atomic layer deposition of p-type SnO thin film transistors using tin(ii)bis(tert-amyloxide)
Adv. Mater. Interfaces 2022, 9, 2101278
---
S. C. J. Meskers
Circular polarization of luminescence as a tool to study molecular dynamical processes
ChemPhotoChem 2022, 6, e20210015
---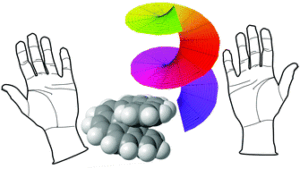 S. C. J. Meskers
Consequences of chirality on the response of materials
Mater. Adv. 2022, 3, 2324–2336
---

A. Nyga, A. Blacha-Grzechnik, P. Podsiadły, A. Duda, K. Kępska, M. Krzywiecki, R. Motyka, R. Janssen, and P. Data
Singlet oxygen formation from photoexcited P3HT:PCBM films applied in oxidation reactions
Mater. Adv. 2022, 3, 2063-2069
---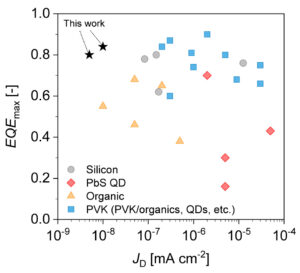 R. Ollearo, A. Caiazzo, J. Li, M. Fattori, A. J. J. M. van Breemen, M. M. Wienk, G. H. Gelinck, and R. A. J. Janssen
Multidimensional perovskites for high detectivity photodiodes
Adv. Mater. 2022, 40, 2205261
---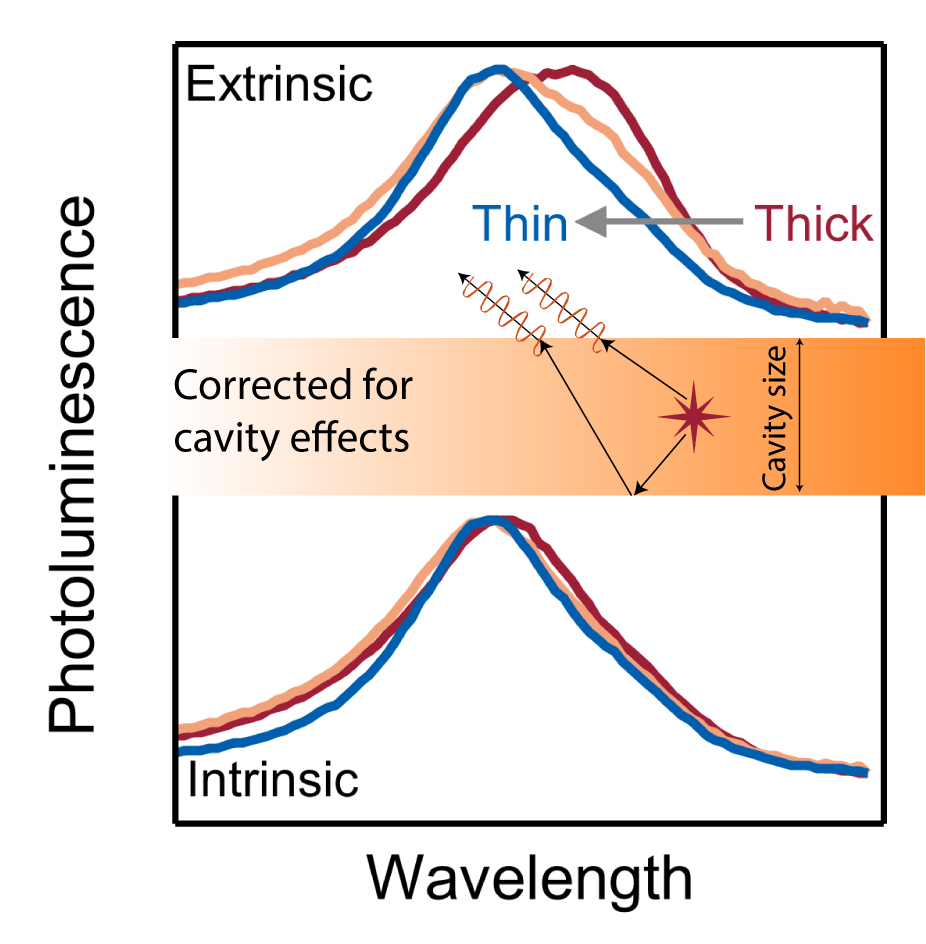 T. P. A. van der Pol, K. Datta, M. M. Wienk, and R. A. J. Janssen
The intrinsic photoluminescence spectrum of perovskite films
Adv. Optical Mater. 2022, 10, 2102557
---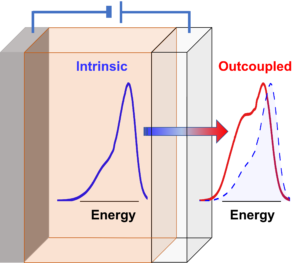 T. P. A. van der Pol, K. Datta, M. M. Wienk, R. A. J. Janssen
Impact of self-absorption and cavity effects on the electroluminescence spectra of thin-film solar cells
Sol. RRL 2022, 6, 2200872
---
N. Phung, M. Verheijen, A. Todinova, K. Datta, M. Verhage, A. Al-Ashouri, H. Köbler, A. Abate, S. Albrecht, and M. Creatore
Enhanced self-assembled monolayer surface coverage by ALD NiO for p-i-n perovskite solar cells
ACS Appl. Mater. Interfaces 2022, 14, 2166–2176
---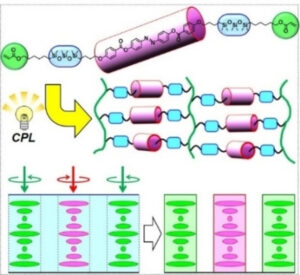 H. Sakaino, D. J. Broer, S. C. J. Meskers, E. W. Meijer, and G. Vantomme
Photo-imprinting of the helical organization in liquid-crystal networks using achiral monomers and circularly polarized light
Angew. Chem. Int. Ed. 2022, 61 ,e202200839
---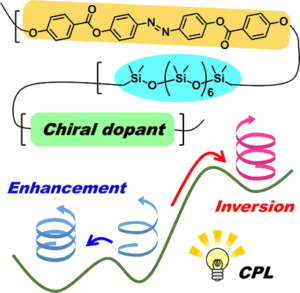 H. Sakaino, S. C. J. Meskers, E. W. Meijer, and G. Vantomme
Competition between circularly polarized light and molecular chirality in the assembly of main-chain liquid crystalline polymers
Chem. Lett. 2022, 51, 713−713
---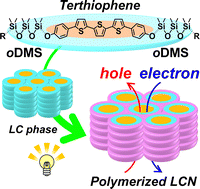 H. Sakaino, S. C. J. Meskers, E. W. Meijer, and G. Vantomme
Charge transport in liquid crystal network of terthiophene-siloxane block molecules
Chem. Commun. 2022, 58, 12819−12822
---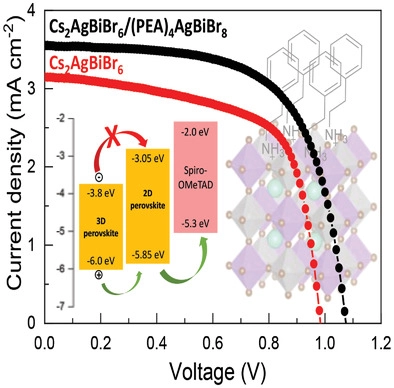 M. T. Sirtl, R. Hooijer, M. Armer, F. G. Ebadi, M.i Mohammadi, C. Maheu, A. Weis, B. T. van Gorkom, S. Häringer R. A. J. Janssen, T. Mayer, V. Dyakonov, W. Tress, and T. Bein
2D/3D Hybrid Cs2AgBiBr6 double perovskite solar cells: improved energy level alignment for higher contact-selectivity and large open circuit voltage
Adv. Energy Mater. 2022, 12, 2103215
---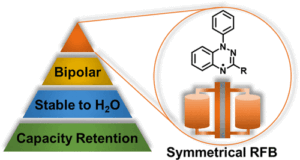 J. S. Steen, J. L. Nuismer, V. Eiva, A. E. T. Wiglema, N. Daub, J. Hjelm, and E. Otten
Blatter radicals as bipolar materials for symmetrical redox-flow batteries
J. Am. Chem. Soc. 2022, 144, 5051–5058
---
M. Taherpour, C. van Hoesel, R. Coehoorn, and P. A. Bobbert
Accurate and fast master equation modeling of triplet-triplet annihilation in organic phosphorescent emission layers including correlations
Phys. Rev. B 2022, 105, 085202
---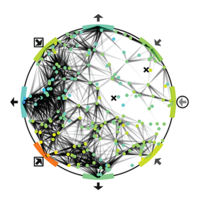 H. Tertilt, J. Bakker, M. Becker, B. de Wilde, I. Klanberg, B. J. Geurts, W. G. van der Wiel, A. Heuer, and P. A. Bobbert
Hopping-transport mechanism for reconfigurable logic in disordered dopant networks
Phys. Rev. Appl. 2022, 17, 064025
---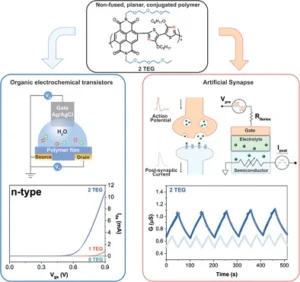 Y. Zhang, G. Ye, T. P. A. van der Pol, J. Dong, E. R. W. van Doremaele, I. Krauhausen, Y. Liu, P. Gkoupidenis, G. Portale, J. Song, R. C. Chiechi, and Y. van de Burgt
High-performance organic electrochemical transistors and neuromorphic devices comprising naphthalenediimide-dialkoxybithiazole copolymers bearing glycol ether pendant groups
Adv. Funct. Mater. 2022, 32, 2201593
---